Still not sure of the need for linux but this looks like the best way yet to get Linux on your system without fuss:
http://wubi-installer.org/
It installs Ubuntu all from within Windows into a folder (file) within a windows partition. The only mod it makes to windows is adding the option to boot to Ubuntu in the boot menu.
From what I can tell, it sort of works like truecrypt where everything is contained in a single file but linux sees that file as a partition.
I'm going to try it because I'm a glutton for linux punishment.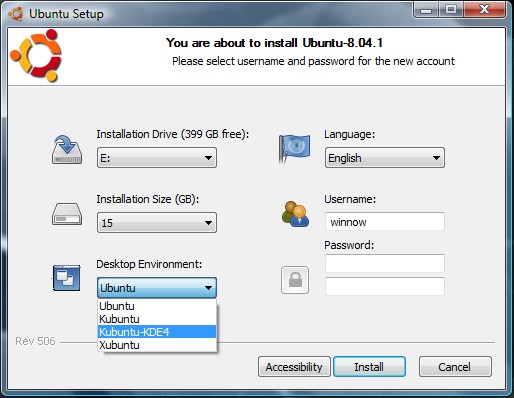 The little installer app is a tiny file and brings up the window above.
I like that you can choose a partition other than the windows OS partition and can choose the installation size. Since I keep my OS partition relatively small, I can make this Wubi thing larger on another partition. You can also choose Kubuntu (KDE environment) or Xubuntu for older computers.
As Xatrei knows, linux is all about the flash so I'm going for Kubuntu and hopefully get Compiz running with the wiggly windows, anime girls on the rotating 3D square, while raindrops make a splash effects on the desktop.
-------------
Note: install on hold as I get an error message when I try to install. I'll assume the FTP servers are overloaded and try later. It was smooth all the way up until that part though!