Making a new thread for this due to the length and images.
Perhaps this will help some decide if a Witch Elf is something they might like to play in Warhammer.
Here are some of the abilities and tactics I use in RvR. This is typically the sequence in which I use them so don't skip ahead!
Note: most of the damage points listed below scale. These figures are for a level 20 Witch Elf.
After closing in on the battle, I use Shadow Prowler to cloak myself and then pick out my target. Only Witch Elves and Witch Hunters have this type of ability. I think Witch Elves us it more effectively with their high melee DPS while Witch Hunters' main attack is ranged. Popping up at point blank range and unloading an assload of DPS is the goal.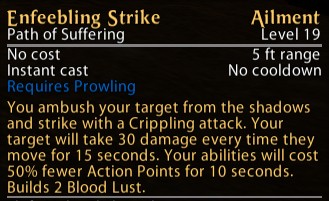 Enfeebling strike is my opening move of choice. It's a 15 second DOT (an eternity in RvR) that hits the target with 30hps damage every second if the target is moving. It's glorious. People do not stand still in RvR...and if they do, I'll kill them anyway. Even if they stand still, this is a great opening move coming out of stealth with the 2 blood lust build up and 50% reduction in Action Point cost for ten seconds. This costs me zero Action Points to use.
Fleet-Footed is my get-out-of-root/snare card. It's instant cast and also prevents me from being rooted/snared again for 10 seconds...plenty of time to kill a squishy caster that has root/snare abilities.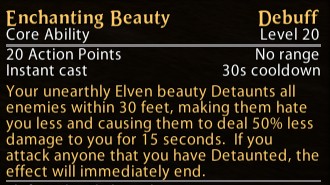 When a Witch Elf pops out of hiding, they get targeted quickly so I tend to cast Enchanting Beauty most of the time. Taking 50% less damage from all the enemies, that I'm not focused on killing, buys me time to off my opponent and do some extra damage elsewhere. I can't say for sure how effective this is but I seem to live awhile with lots of people pounding on me.
The last of my utility spells is Booby Trap. With some scenarios, siege weapons get used a lot. This little spell is nice to stick on one of them early in the battle on my way to the flag, etc. Don't use it much atm but might more in the future.
After prepping my opponent, defeating snares/roots, and debuffing everyone else in the vicinity (if required), I get to work on my bread and butter damage abilities. I open this stage with Kiss of Death. It's an awesome dot with special anti healing benefits. This is one of the reasons Witch Elves are great healer killers. The main use of this spell is the chance to do do an extra 80hps of damage every time I make any attack...which leads to:
Kiss of Doom is my first Path of Suffering Spec tactic. Combined with Kiss of Death above, it gives me a 50% chance to do 80hps of additional damage every single time I attack...and keep in mind, Witch Elves swing their daggers like mad (high DPS, low weapon delays) It's a passive ability so is always active. (if slotted)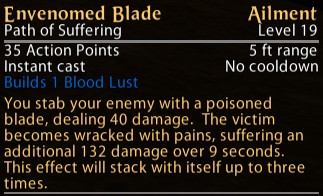 My next attack is another DOT. Envenomed Blade can stack with itself three times and is part of my main damage cycle. It adds damage to the runners that are already being hit by my opening Enfeeble Strike attack.
Part of my damage cycle (which is really only two damage attacks and then my Blood Lust attack coming up next) Instant cast, good damage. Rinse, repeat after Envenomed Blade again.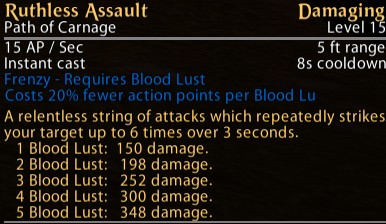 you'll notice Blood Lust points mentioned on a lot the abilities above. As I build those points up, I can use Ruthless Assault to unload more damage. The important thing to note here is that if I let the max 5 Blood Lust points build up, this ability costs me zero Action Points which is huge because you're usually low on those by the time this builds up to 5. If the target is low enough and I think I can finish them off, I'll launch this earlier if I have the Action Points.
If you count up all the Blood Lusts, you'll notice that I have 5 built up by the time I get to this attack from my opening move to this point: (Enfeeble 2, Kiss of Death 1, Envenomed 1, Slice 1)
Remember I have a 50% change to do 80hps each attack and this ability alone is six attacks.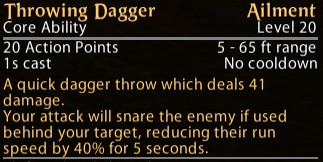 Lastly, for that poor caster/healer that might be running after being hit with a 15 second movement DOT and up to three 9 second stacked Envenomed Blade DOTs, I can chuck a dagger at them as they run and snare them to get a few more whacks in to finish the job faster.
----------
Hope that gives you and idea of how the Witch Elf operates. You're pretty much going to toast anyone one on one although heavily armored tanks can be a bitch. We have an agony ability which ignores AC if combined with the "ignore position" ability, allowing you not to have to use this powerful attack from behind but I'm typically not set up for that as I'm going after casters and fruity bow and gun shooters.
The down side is you'll die a lot. Doing the above will get you your kill almost always but then you're AC is low and people really don't want you alive very long with your nasty DPS so you go down. It's amazing though how much havok a Witch Elf can cause once they pop out of hiding. Besides knocking out a healer or big time damage caster, you draw a lot of attention which allows your allies to get some extra shots in. Someone's got to kill you besides the target you picked so that takes another person out of the action and usually multiple people.
Witch Elves are also not bad at capturing flags. I grabbed my first one and invised thinking I'd have an easy run back to camp with it. Little did I know that I had a huge blue blowtorch of a light shining up into the sky above me so it didn't matter if I was invisible or not. I still made it back!
-----------
Note on PvE: you simply destroy any target up to five levels above you, non stop. Witch Elves are an Excellent PvE class. (use throwing dagger to pull)
For level grinding, find +5 mobs that don't run. Runners are OK but it's less messy with things like Spiders, Boars, Nurglings, etc.
Levels 16-18,: kill level 20-22 Spiders and Zombie looking things just inside Talabecland from the Troll Country Zone (near Taalside)
Levels 19-20: kill level 23-24 boards across the bridge and just south of Witch's Hollow (there's a Rally Master for binding and a Flight Master nearby)
Once you get Kiss of Doom at level 17 (if you put full points in the Path of Suffering Route), the killing speed really picks up.
Edit: Witch Elves also make great defenders. Playing wingman to a Flag Runner or defending your home base, you're pretty effective at taking out the sneaky people. You aren't going to do much against a full assault though.